myleo Cage Training – jetzt 4. Cage!
UPDATE 27.4.2020
*ab morgen, Dienstag den 28.4. gibt es einen weiteren Cage!
*aufgrund der hohen Nachfrage können Nicht-Mitglieder derzeit KEINE Cages buchen
—
Wir haben mit der Genehmigung unserer Vermietung unsere Parkplätze umfunktioniert: Ab Montag könnt ihr in drei Cages Eurer Training machen! Das ständige Joggen während des Lockdowns verbessert zwar Eure Grundlagenausdauer, aber ohne Gewichte bleibt die Kraft und allumfassende Fitness einfach auf der Strecke. Die Cages sind eine Mini Box mit allen Geräten und Equipment, was für ein vernünftiges CrossFit Training erforderlich ist. (Einziges kleines Manko: es gibt keine pull up bar.)
IT'S TIME TO LIFT HEAVY AND TRAIN HARD AGAIN!
Mit unserem extra Cage Programming könnt ihr einfach Euren Cage mieten und direkt mit dem Training anfangen – denn Eurer Workout steht schon an der Tafel.
Die Cage Zeiten sind 7-11 und 16-20 Uhr. Zu diesen Zeiten ist dann natürlich auch ein Coach vor Ort, der Euch – selbstverständlich nur mit 1,5m Abstand – bei Fragen mit Tipps zur Seite steht. Außer: der Coach ist gerade oben und mach den morgendlichen/abendlichen Livestream.
Wie könnt ihr Euch einen Cage reservieren? Ganz einfach über Eversports (ab Sonntag Mittag). Da wir derzeit nur 3 Cages zur Verfügung haben, bitten wir Euch, nicht 5 Tage die Woche durchzubuchen, sondern pro Mitglied nur 1-2 Zeiten zu reservieren. Wenn Ihr die Cages gut nutzt, können wir eventuell noch 1-2 weitere aufbauen und so einer größeren Nachfrage gerecht werden.
Außerdem könnt ihr in einem der Cages jetzt auch Personal Training zu einem rabattierten Preis von 60€ buchen. Dieses könnt ihr wie üblich per Mail an mail@myleo.de mit uns vereinbaren. Die möglichen PT Zeiten sind:
Mo-Fr: 8,9,10,16,17,19 Uhr sowie Sa+So 10,11,12 Uhr. Hier gilt, wer zuerst kommt (bzw. eine Mail mit Wunschtermin schreibt), mahlt zuerst.
BITTE LEST EUCH UNSERE CAGE RULES AUFMERKSAM DURCH. Wir sind auf die Einhaltung aller Regeln angewiesen, damit dieses Konzept funktioniert und wir uns an alle gesetzlichen Bestimmungen halten.
Besonders wichtig: Der Cage hat nur Equipment für 1 Person. Wenn ihr nicht im gleichen Haushalt lebt, müsst ihr Euch 2 Cages reservieren, da ihr Euch kein Equipment teilen dürft.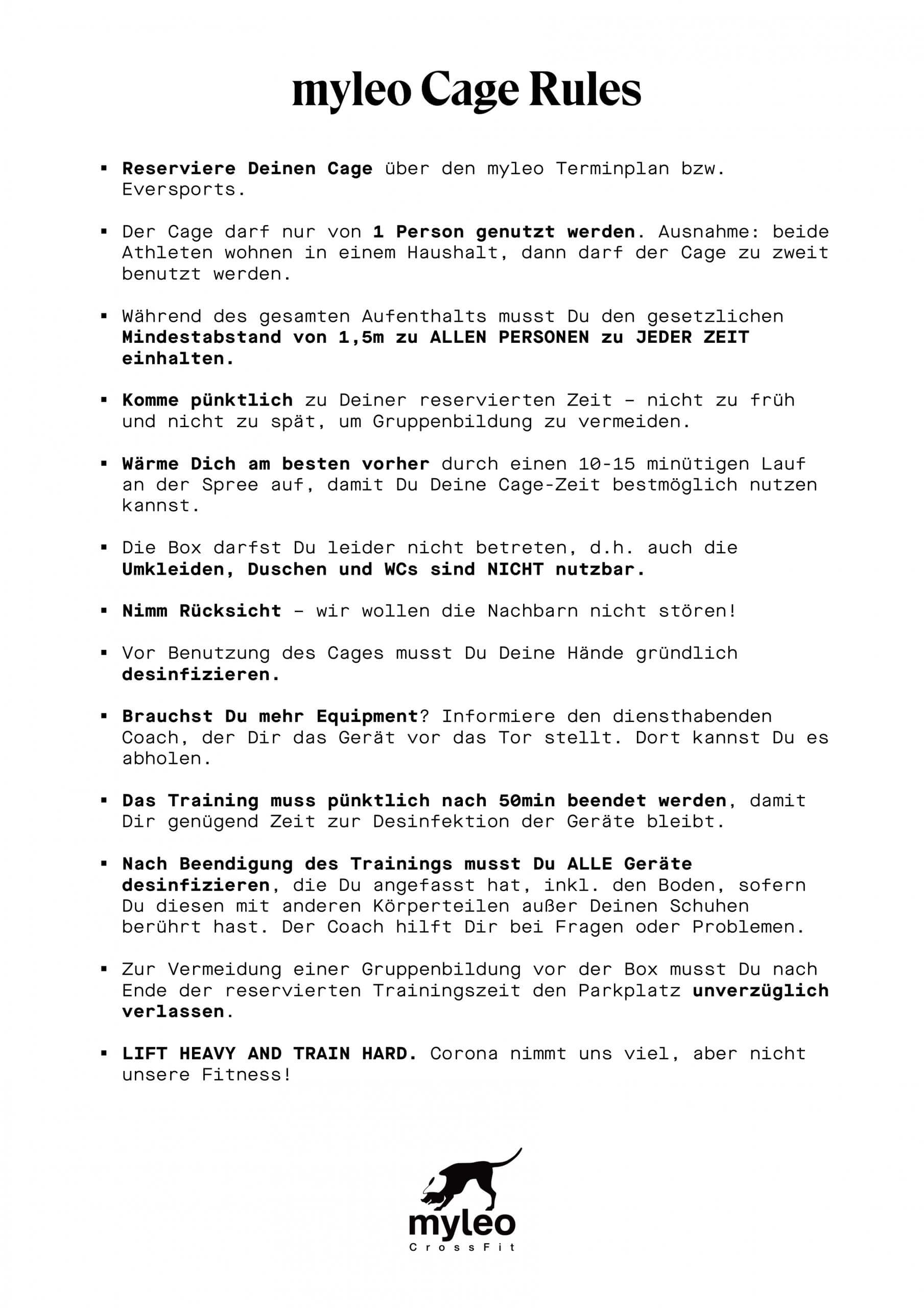 For all of our English speaking members, here is a short summary of the information and cage rules:
– we have 4 cages for you to use for your training
– we will provide a cage programming for you to follow, but this is NOT a coached "group class"
– if it is raining heavily, cage training will be cancelled (you will be notified via email). If it is raining just a little, you can traing with kettlebells and dumbbells only.
CAGE RULES
– each member can only book 1-2 cage-times per week, so more members have the chance to train a little
– the cage can only be used by 1 person at a time, except if 2 people live in the same household. The cage must not be used by more than 2 people at all times
– you must keep 1,5m distance to ALL people at ALL times
– come on time and not too early to avoid group building (if you're early, please stay in your car)
– warm up before you enter the cage, for example with a 10-15min run along the Spree, so you can use your 50min Cage time fully for the training
– you cannot enter the box at all times
– try to be considerate of the neighbors
– sanitize your hands before the training with the provided handsanitizer
– you must finish the training after 50min so you have enough time to sanitize the equipment
– you must sanitize ALL used equipment, including the floor (if you touched it with other parts but the shoes). Use the provided sanitizer and sanitizing wipes
– please leave immediately after your training to avoid group building
and most importantly:
– LIFT HEAVY AND TRAIN HARD!